We organize private yacht tours for our guests to enjoy Istanbul's unique and delightful view of the Bosphorus.
You can take a tour of the Bosphorus or Princes Islands with our exclusive luxurious yachts that are fully allocated to you, or rent for your special organizations.
You can rent our yachts on full day or hour basis. For more detailed information about our fleet and tours please do not hesitate to contact with us.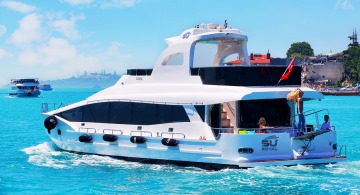 Our team prefers expert and advanced physicians to give the best and the most accurate service for you according to your complaints...

You are welcomed by our team at the airport on the scheduled day and time. Your transportation to hotel is provided according to treatment plan...

There are several accomodation alternatives in all cities of Turkey which is at the junction of Europe, Asia and Africa continents...

We give translation services by our assistants in the progress of contacting with the team who will treat you, transfer and accomodation...